GLUTEN AND DAIRY FREE WITH EXTRA GOODNESS!
(Easily adapted for non thermomix users)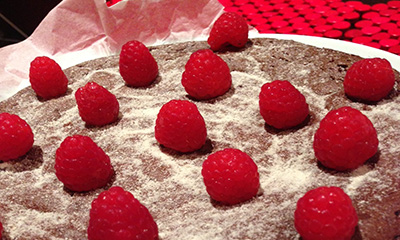 Ingredients
5 tablespoons Chia Seeds Soaked in 1 Cup Water
1/2 Cup Raw Cacao
125 grams coconut oil
5 eggs
175 grams almonds
120 grams Rapadura Sugar
1 teaspoon Gluten Free Baking Powder
Method
Preheat Oven to 180 degrees
Line a Round Springform Cake tin with baking paper
Soak and Stir the Chia Seeds for 5 minutes until thick and gel-like
Grind Almonds on Speed 9 for 20 seconds OR use almond meal
Add all other ingredients (including Chia seeds in water) and mix on Speed 5 for up to 1 minute until completely combined
Pour into tin and bake for 35-40 minutes. Cool for 10 minutes before removing from tin
Tip: Decorate with Fresh Raspberries and dust with Icing Sugar
Thermomix Australia loved our recipe and made it 'Recipe of the Day' on their facebook page on January 20th 2012!
Related Artlicle