Finally! We found the perfect spot on the corner of Glebe Road and Date Street, Adamstown, for our new Organic Grocer and Café. The next step was to get creative and make it a vibrant and arty space to reflect our love of colour and style.
We had dreamed of having a mural, reflecting the iconic building's history as a toy store and bike shop, whilst complementing our new Organic Grocer and Café. The City of Newcastle 'Pride of Place' 2012 Grant applications were advertised and so excitedly we submitted an application with fingers crossed.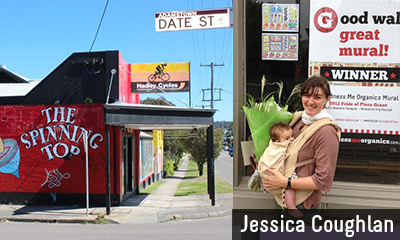 The mural was designed by local artist Jessica Coughlan and went through many drafts before the final winning design was settled on. Jess studied locally at the University of Newcastle receiving Honours in Fine Arts and works collaboratively and experimentally on project pieces. 
On 17th October 2012, Goodness Me Organics received the exciting news that the application had been successful! We won a $5000 Grant in the 'Beaut Business' Category to place an eye-catching mural on the exterior Date Street wall. The grant objective was to 'add value and build community pride and visual amenity in Newcastle's commercial precincts'.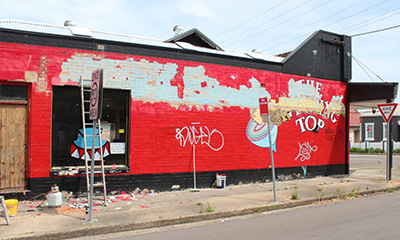 Circumstances meant designer Jess Coughlan was not able to paint the mural and local artist Elizar Clare Mytka came to the rescue jumping straight on board to paint Jess's winning design. Elizar has a Diploma of Fine Arts and has been busy painting murals since she was 15 years old throughout Newcastle, Sydney and Byron Bay.
We had a tight deadline to complete the project by December 7th 2012. After 12 days the painting of the mural was completed before finally being covered with a protective anti-graffiti coating.
As part of our celebrations, we had a Facebook competition inviting people to take a creative photo of 'someone or something at the Mural' to win a $50 Gift Voucher.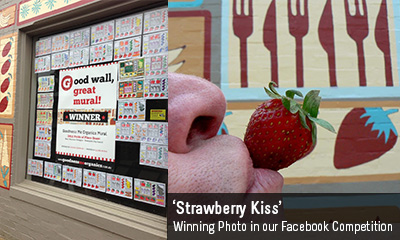 Local school children got busy colouring in for us to help decorate our mural wall window.
On Monday 17th December the mural was inspected by Frank Cordingley, Newcastle City Council's Livable City Director and Lisa Scully, City Presentation Manager. Goodness Me Organics was presented with a plaque to celebrate our achievement!