All good businesses need a great location
We needed to find a home for our new business venture - the as yet unnamed – Goodness Me Organics. The name was to come after much brainstorming and was a flash of brilliance from Andy - aka Mr Goodness Me.
We spent months during 2011 looking at different suburbs and properties but there were fatal flaws with all of them! Then one day we drove home past Spinning Top Toys on Glebe Rd Adamstown and wistfully thought what a fabulous location it would be….. "Oh, they'll never move…."
BUT THEY DID! We had our dream spot for our new venture!
However, not without SERIOUS work needing to be done. The buildings were old and needed a huge renovation to meet current regulations for a food premises. Some areas were beyond rescue with daylight showing through the cracks and the floor was sunken and spongy. 621 Glebe Road, the derelict building we inherited alongside the main building needed to be demolished completely.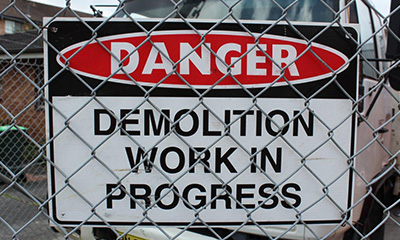 Our objective in renovating the iconic building on Glebe Road, Adamstown, has been to create an arty and visually appealing space for Goodness Me Organics and the community to enjoy whilst retaining the character and authenticity of the building.
Draft upon draft of drawings were scribbled upon before plans were drawn up and submitted to Council. After four long months of waiting our development application was awarded consent on August 27th 2012. Unfortunately it came with a hefty 52 conditions!
The neighbours and Adamstown locals started to buzz with excitement once news was out that Adamstown was getting a new Organic Grocer and Café!
The work started in earnest with the roof being replaced and the derelict ex Hadley's building being demolished in September 2012. The old bricks were rescued, cleaned up and reused for the new courtyard wall and building extension providing a link to the past and spots of colour. Many interesting things were discovered along the way, including an old buried bicycle and an outback dunny!

The original buildings have a long and interesting history as a general store, residence, bike shop and of course most recently Spinning Top Toys. Internally it has been completely renovated with a commercial kitchen, cool room and fully accessible toilet facilities installed. Internal walls were ripped out to create an open space to house our grocery and café areas.
In December it was onto building the deck which flows from the cafe into the courtyard, containing garden beds full of edible plants. The colourful mural on the Date Street external wall won The City of Newcastle 'Pride of Place' 2012 Award in the 'Beaut Business' category. The front footpath was re-concreted (twice due to a declaration of teenage love) to remove the step and improve accessibility.

Finally, the last few weeks before opening arrived! We were a hive of activity getting projects finished, signage and fencing erected, waiting for essential equipment to arrive, sourcing the right suppliers for our Organic food and groceries, creating our website and training our excited new team. Sometimes we wondered if we'd ever finish it all!
Welcome to our dream....... Goodness Me Organics, an organic Grocer and Café all under one roof in a central location in Newcastle......... We hope that this becomes YOUR place too, that you share us with your friends and most of all enjoy!
Thanks go to Adamstown local Leanne Shelton, who supplied us with the Mac's store pic from when the old Hadley's building was her parent's shop.